We understand the importance of POD quality and how it impacts your business. A POD is the last step to ensuring a smooth transaction on the Exchange. PODs must be accurate and legible to communicate the successful delivery of loads.
We encourage you to let us know when a submitted POD is unsatisfactory, so we can proactively address the issue with our members and provide additional training where required.
If you've received an unprofessional POD, the best way to notify our team is by raising a support ticket through the Help Centre. Use this article as a guide on how to complete the form and when you're ready to raise your ticket, follow the link provided at the end.
IN THIS ARTICLE:
Choos

ing

the right option

and reason for reporting the POD
Step 1) Start by choosing the 'Quality of Paperwork' option from the 'How can we help?' dropdown: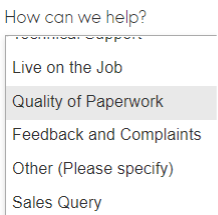 Step 2) Select the reason for reporting the paperwork from the list provided: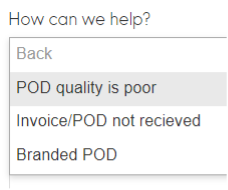 Fill

ing

out all information fields
Next, fill out the remaining information fields about the unprofessional POD and add your company details. If possible, please provide a copy of the document by uploading it here: 

Provid

ing

accurate details
Please take care when providing information in the 'How did it affect you/consequences' field of the form, as this is the most vital part of us being able to resolve your ticket. By providing these details, we can gain a better understanding of the impact the POD quality had on your business and the relationship with your customer.
We will use this information to communicate this to the other member and provide further training where required.

We will make every effort to resolve the issue raised and demonstrate the importance of completing PODs to a professional standard on the Exchange.
If you wish to report an unprofessional POD, please raise a ticket here.