When you log in to the platform the first time, we ask you to read and accept the Exchange Member Charter conditions. You will need to select the checkboxes confirming you have read and understood your membership requirements before we can give you access to the platform.
For your reference, the checkboxes will look like this: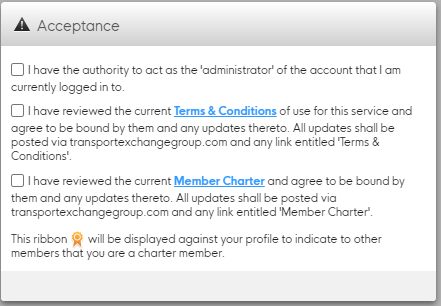 We encourage all members to familiarise themselves with the member charter to ensure the trading platform and our community is regulated and protected.
The Exchange Member Charter rules are as follows:
Adhere to the agreed payment terms when contracting with another member.
Keep the job seller informed at all times (e.g. when collected, when dropped, any problems encountered).
A suitable POD (hard copy or electronic) must always be obtained unless the seller has specified otherwise, e.g. leave consignment in a safe place.
When working on behalf of another member, we will always represent the best interests of that member at all times.
Not to use social media or other media connected with the Exchange to make negative comments about other members – use the feedback system and Account Managers provided by the Exchange.
Not to actively solicit another member's "end customer" for business during a collection or delivery on behalf of that member – must always say they are representing job seller rather than promoting their own company.
Always mark jobs as sold promptly so as not to waste the time of other members;
To promote the general interests of the exchange to other transport professionals for the furtherance of the trade community.
If you have any concerns regarding members who may be ignoring charter rules while conducting business on the Exchange, you have the option to raise a complaint. Please be aware that any claim must be accompanied by physical evidence.
To find out more about raising a complaint, read this article.