It's important to have all your documents, vehicle information and business details updated on your profile. It boosts your credibility and makes you more attractive to other members who want to work with you on the CX platform.
IN THIS ARTICLE
Locating

your profile
Step 1: Log in to your CX account.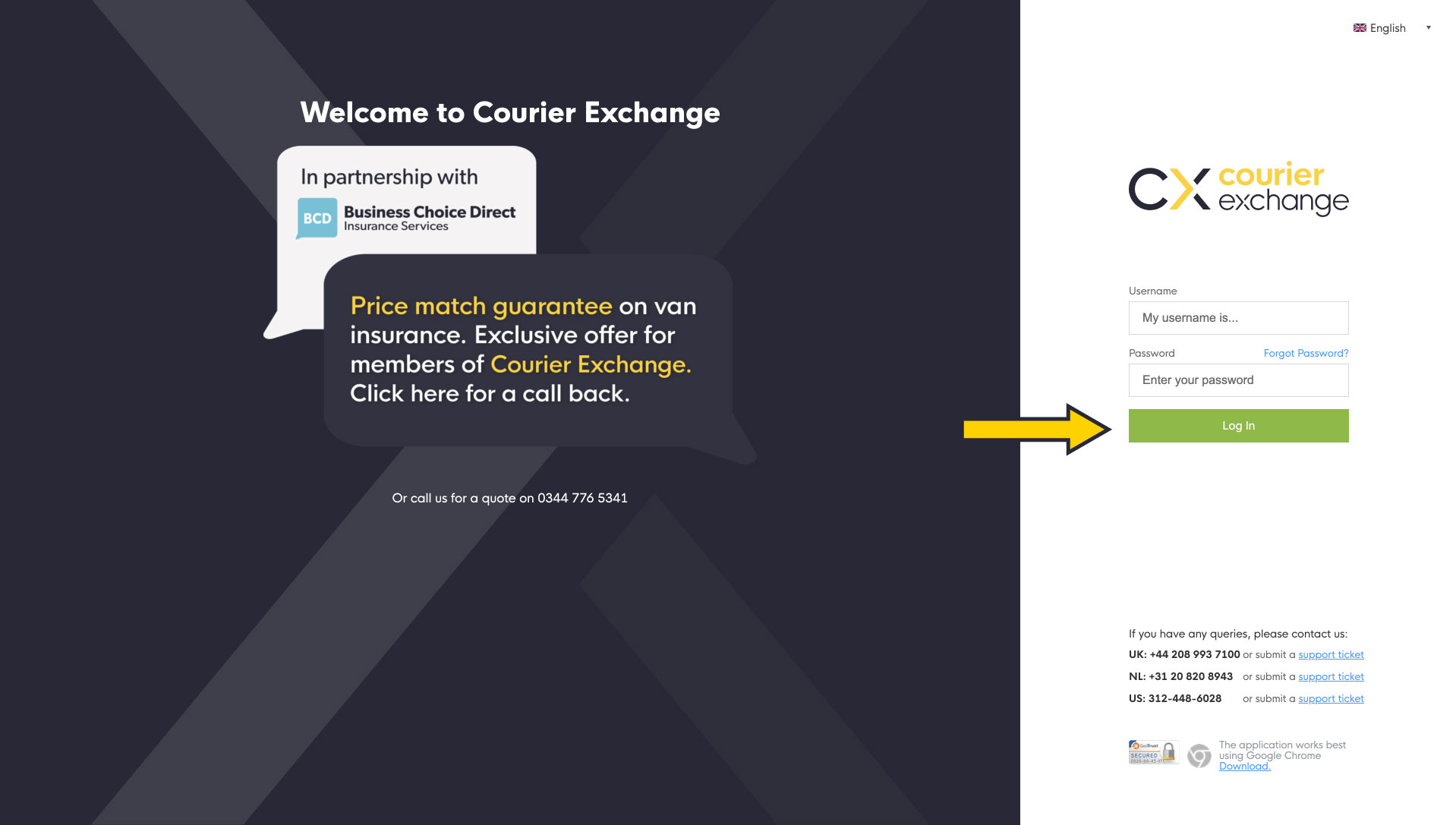 Step 2: Navigate to the drop-down menu on the far right and click on it.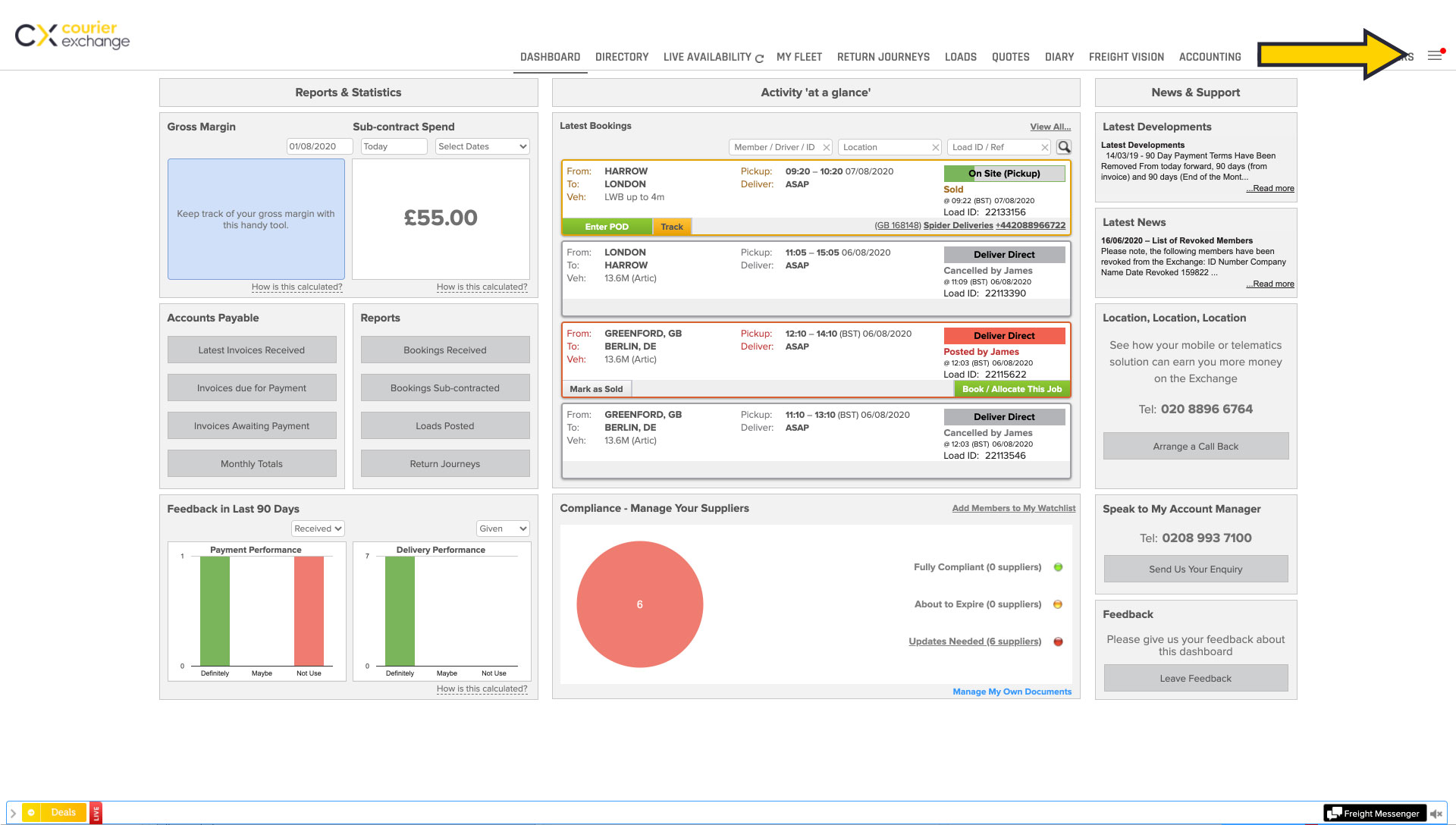 Step 3: Click on 'My Profile'.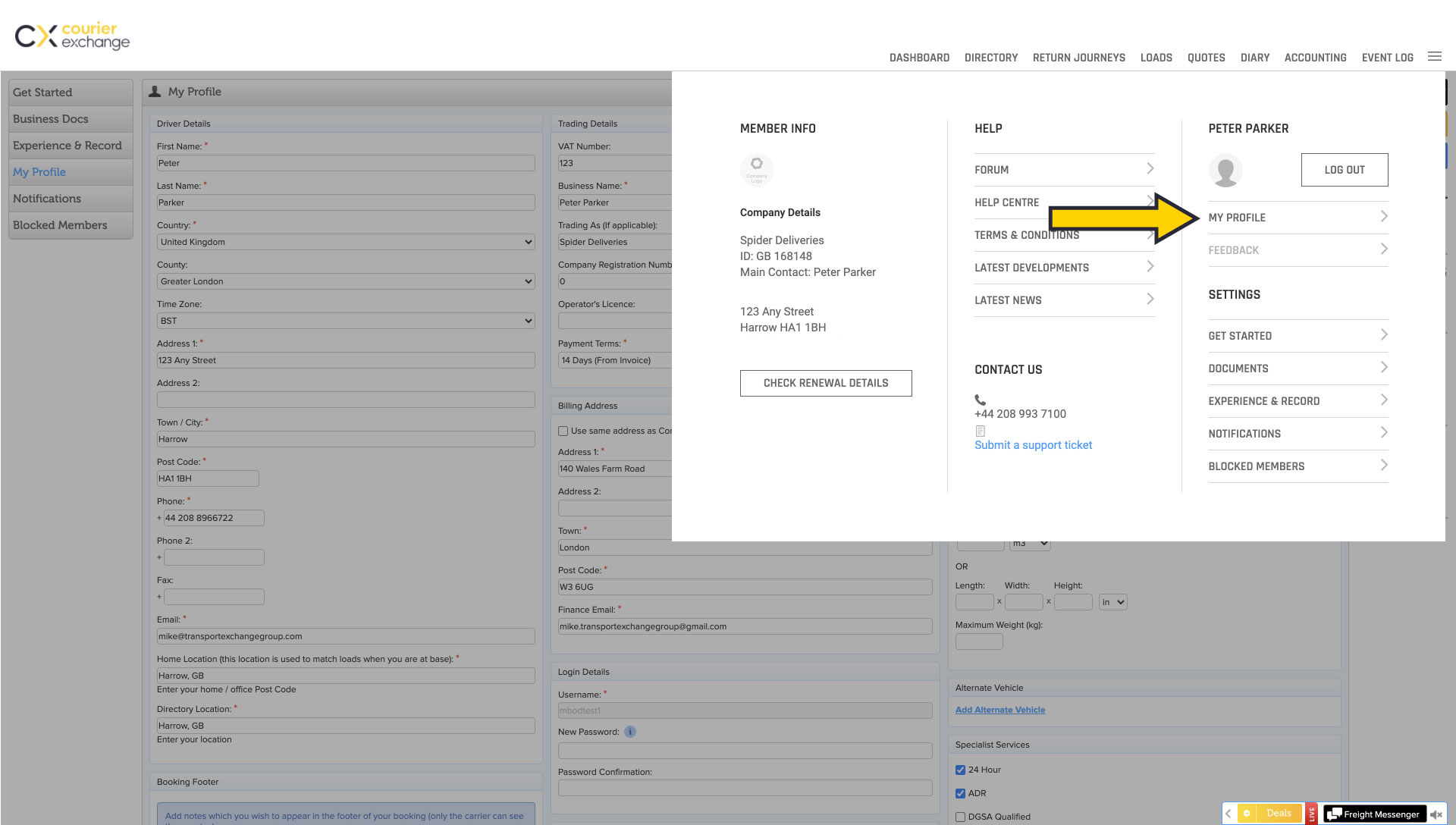 Step 4: This area is where you can update your Trading Details, Vehicle Details, Billing Address and other important information about your business that other members find helpful.
Keep in mind that all this information can be updated at any time, but certain sections will need approval from our team before we can make them live on the platform.
Editing your personal and business information
If you'd like to do this via the mobile app, click the following link to see how:
How to edit your information via the app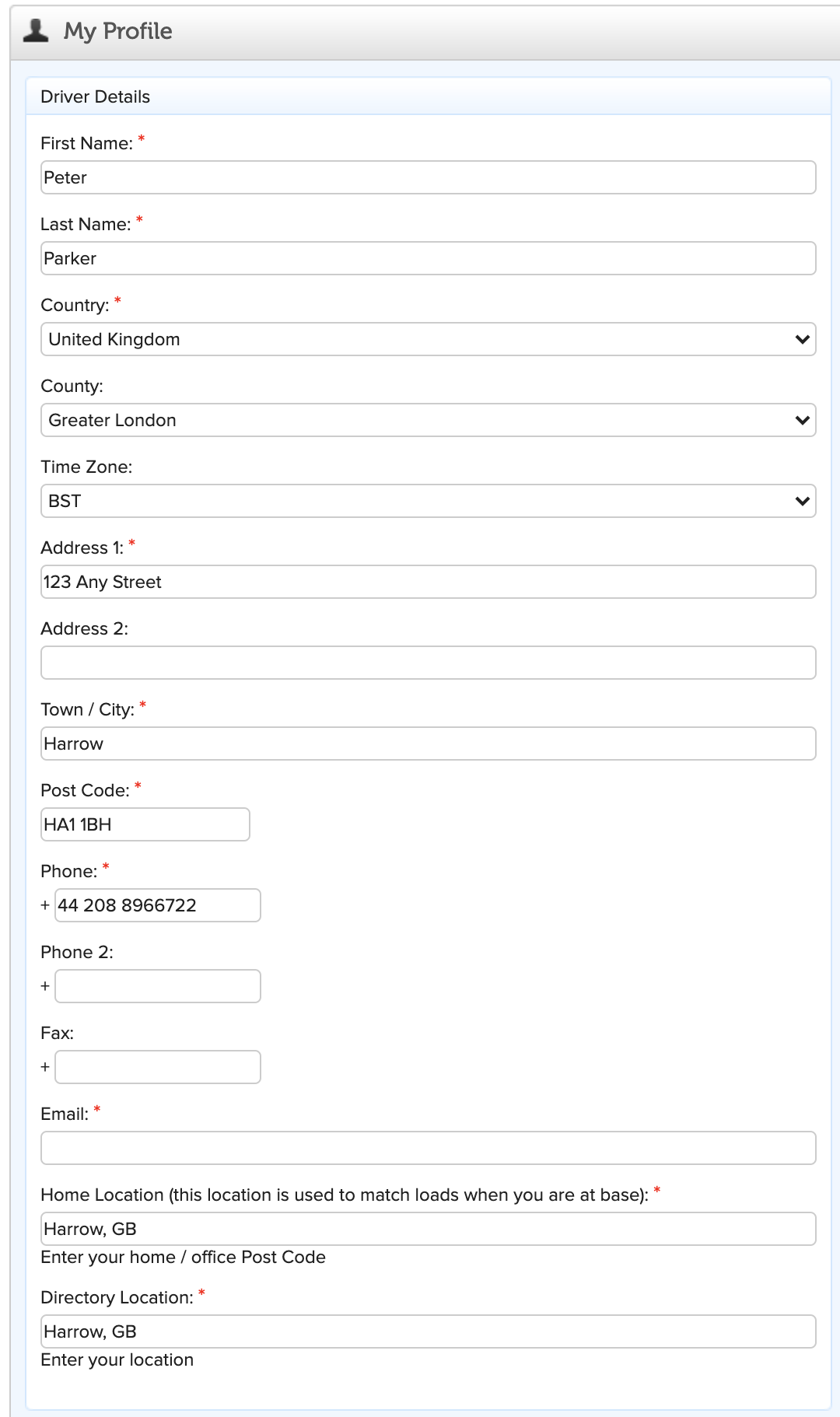 In this tab you can edit your personal information like First Name, Last Name, Postal Address, Email Address and Home Location which is used by our system to match you to suitable load opportunities.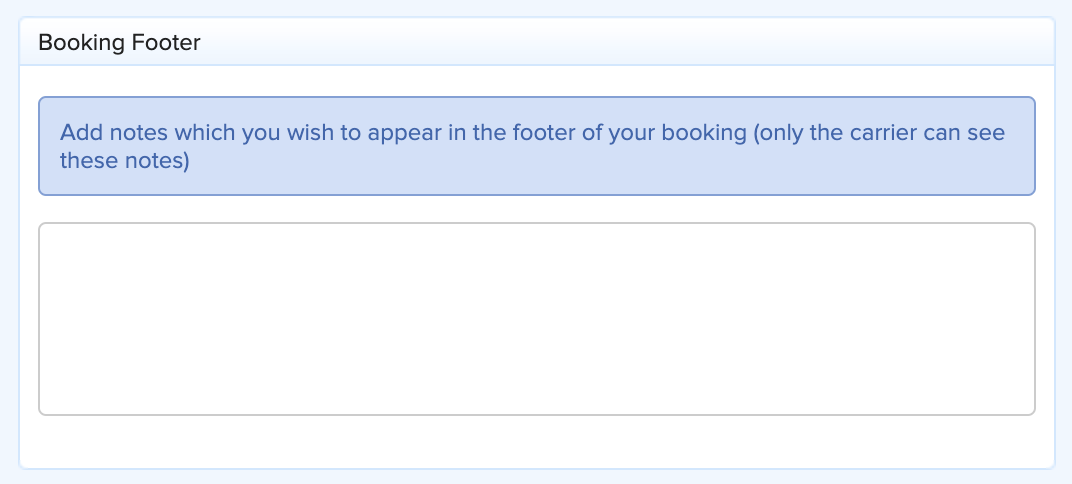 If you're posting a load, you can use this section to add any useful notes that your carrier will see like order instructions, live update preferences or documents needed before you can action payment for a completed load.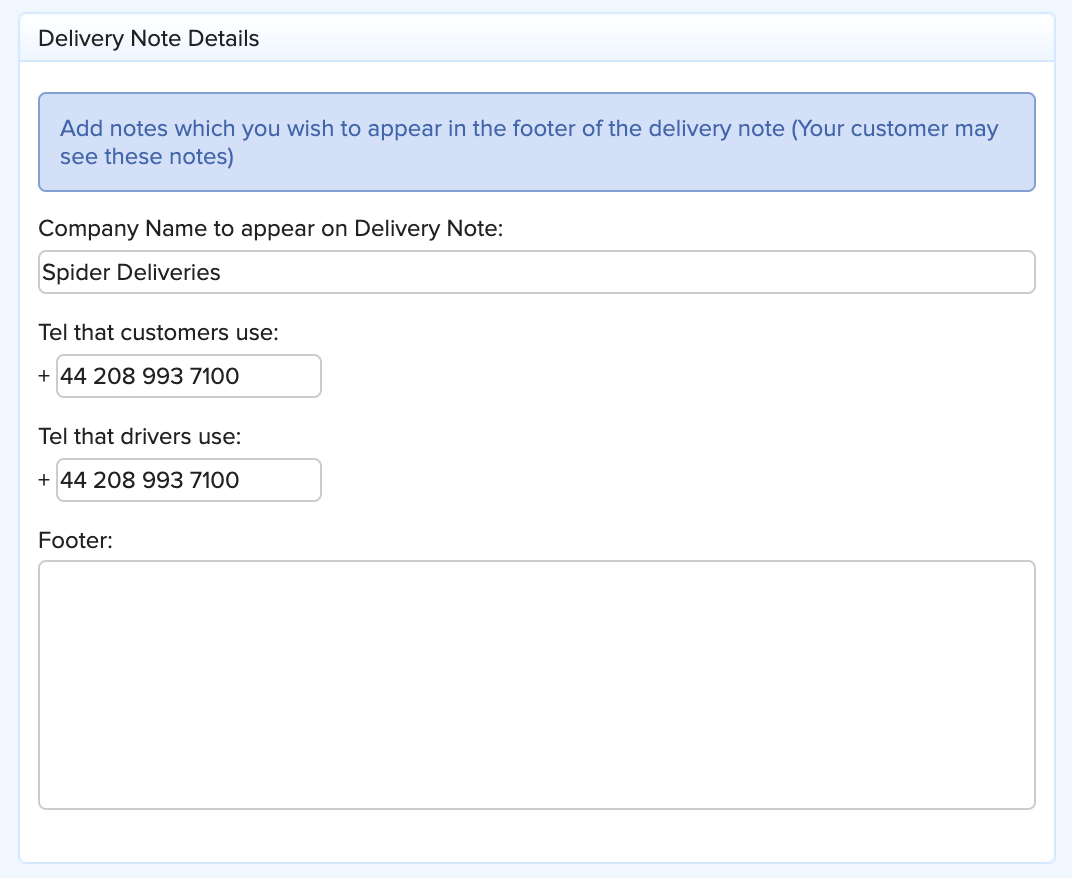 This section lets you add any delivery notes that you'd like your customer to see. You could use it to personalise your services and bring life into your business. For example, you could say something like 'It's been a pleasure doing business with you', or, 'Thanks for doing business with Spider Deliveries.'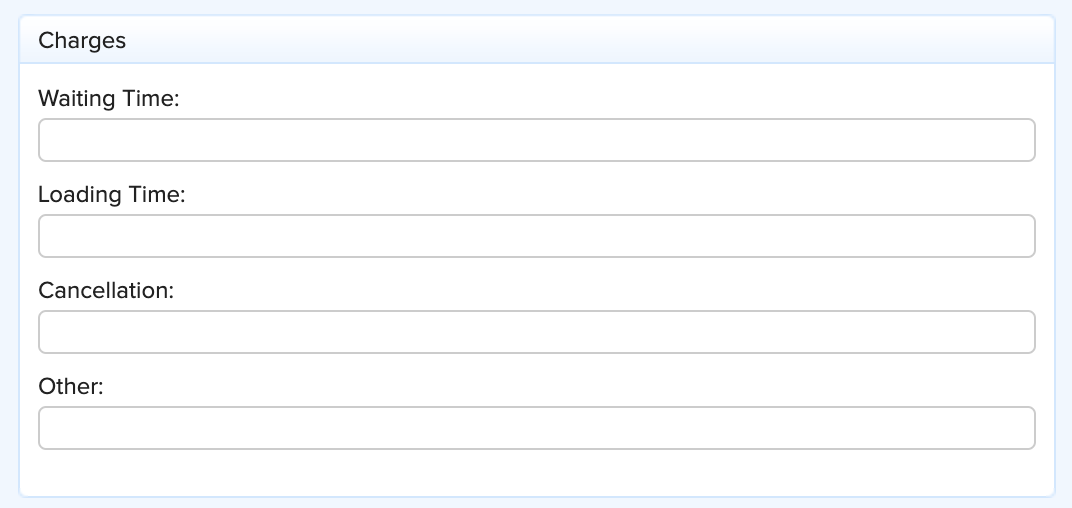 If you charge for waiting times, loading times, cancellations or anything else, it's important to put this information here so your customer is aware and doesn't get confused by your invoice.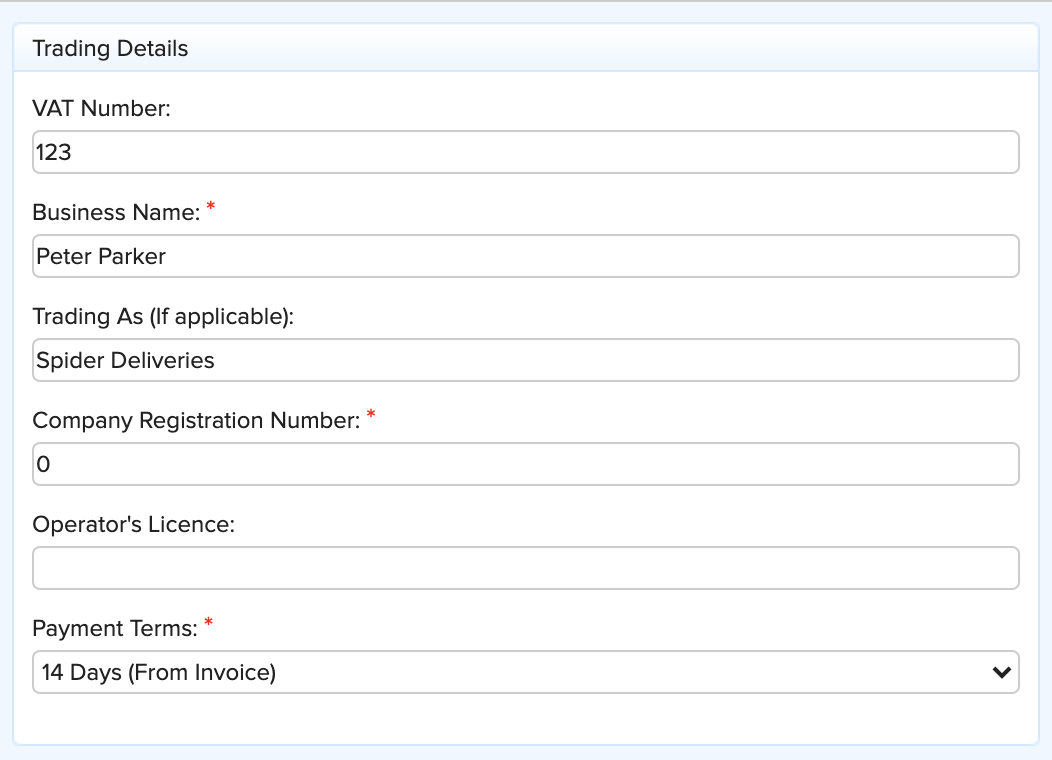 Use this section to add the VAT number of your business, your Company Registration Number, Operator's Licence Number and Payment Terms. Pay very close attention to this section and make sure all the information is correct because your customer relies on it when paying your invoices.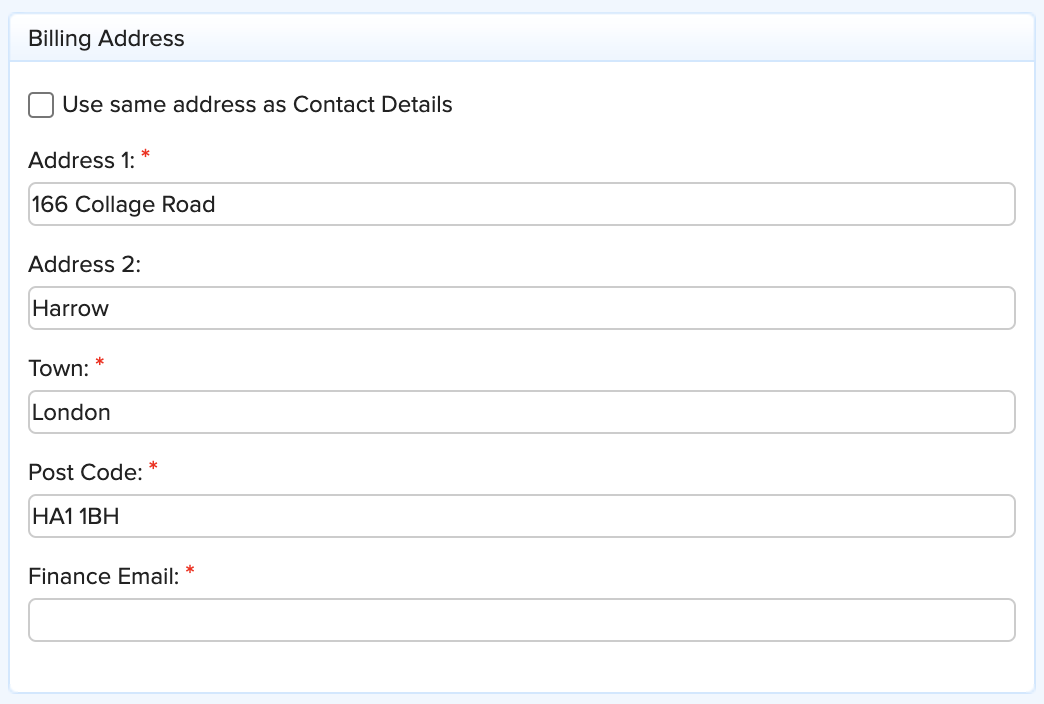 Your billing address is where you would like your invoices sent to if you have a different address other than your primary one. For example, you might want your invoices sent to your accountant. In this case, you would put your accountant's address in the 'Billing Address' section.
If you'd like to change your login credentials, you can do so by updating them in this section. We recommend changing your login credentials after your onboarding specialist has given you access to the platform for the first time. This ensures greater security and protection of your account.

You can use the 'About' section of your profile to include any extra information about your business that you think would come in handy for other members on the CX platform.
Add a personal touch like a motto or mission statement to stand out from other businesses. Another useful thing to add would be something like the number of vehicles you operate, or a testimonial quote from a happy customer.
Use this section as a fantastic opportunity to show off your business and leave a lasting impression on a potential customer visiting your profile.
Remember to check your spelling and grammar before clicking 'Save' at the bottom of the page.


Take your personalisation one step further by adding profile pictures and company logos so it's easier for other members to identify you.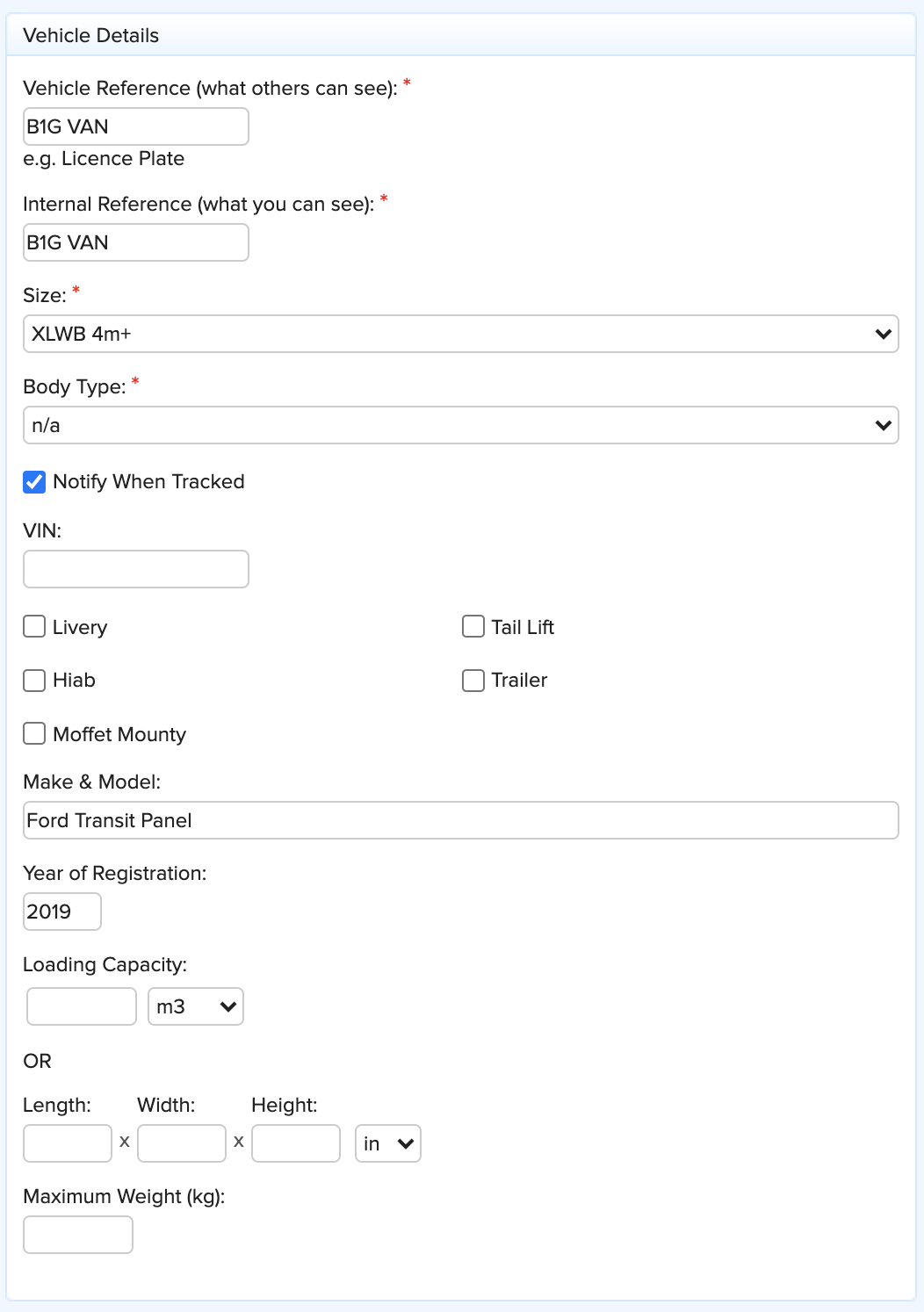 Use this section to add all the important information about your vehicle you're operating with on the CX platform. Make sure to add the correct information, especially in the mandatory fields marked with a red star.
The more accurate your vehicle details are, the better we can match you to load opportunities and for other members to allocate bookings to you trusting that you have the right capacity.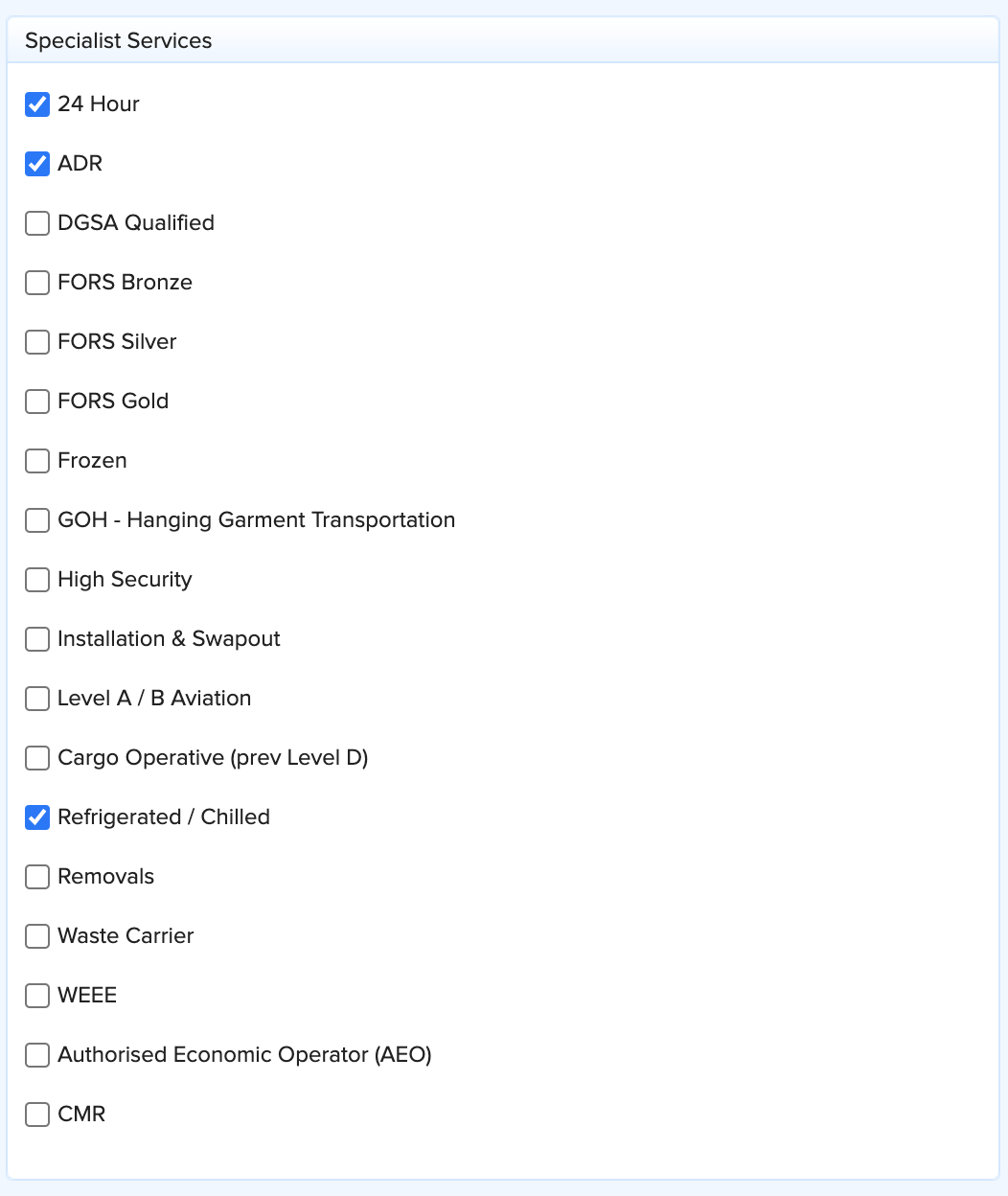 If you're credited in offering any kind of specialised services, you can check the boxes that apply to your business and click 'Save'. It's important to keep this section regularly updated as your customer might be looking for additional services and if you offer them, it's great for your business.
Adjusting your settings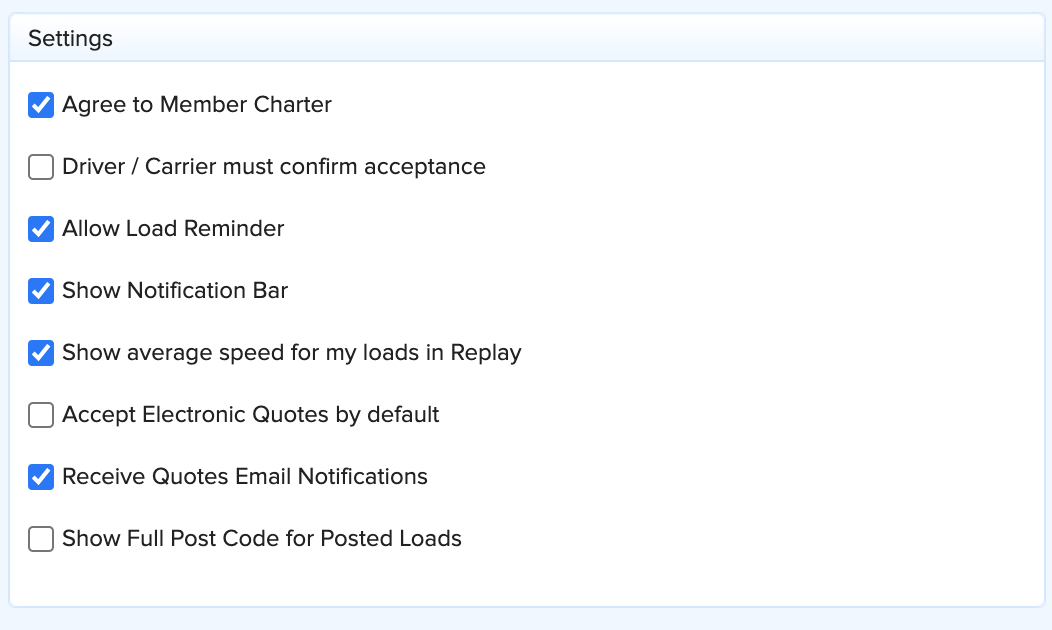 Make sure you agree to the Member Charter. Essentially, the Member Charter is CX's Rules, Regulations and General Policies on how to operate safely, fairly and successfully on the platform. All members must read and agree to this as we strive to make CX an equal trading ground for all transport professionals.
The other settings are specific to the platform functionalities. Here's what they mean:
Driver/ Carrier must confirm acceptance: When receiving a load, you have the option to confirm that you accept it rather than having it automatically allocated to you.
Allow Load Reminder: This setting enables a pop up for reposting a load.
Show Notification Bar: You can choose to hide/unhide the notification bar found at the bottom of the screen on the desktop version of the platform.
Show Average Speed for My Loads in Replay: Selecting this setting means you'll see this in your diary when you view the replay.
Accept eQuotes by Default: This means you allow our system to automatically accept the electronic quoting functionality on the platform.
Receive Quotes E-mail Notifications: You'll be alerted about any load quoting activity on your account via email.
Show Full Post Code for Posted Loads: By default, the platform only shows the area code, e.g. HA1 rather than HA1 5FR. Checking this box will allow you to see the full postcode of a posted load.
How to add a specific email to receive PODs and bookings' confirmation.
Here's how to add a specific email to receive PODs and bookings' confirmation.
Step 1: Log in to your CX account.
Step 2: Click on the burger menu on the top right.
Then click on NOTIFICATIONS.


Step 3: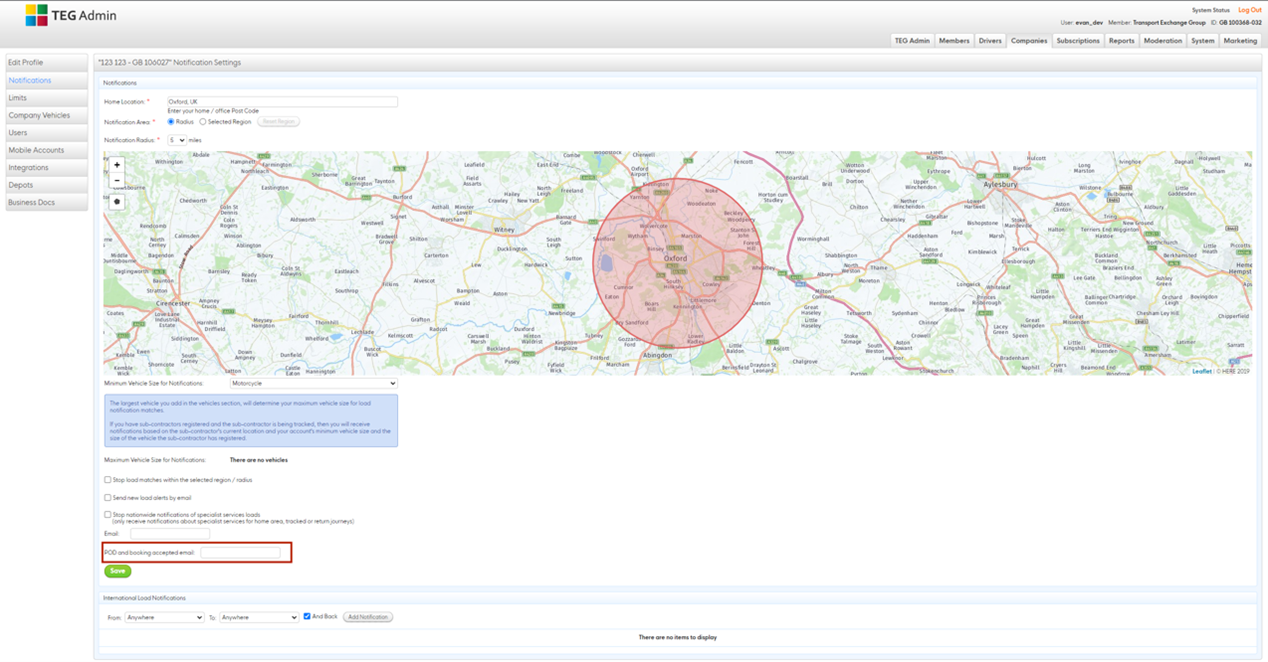 Once you've edited your information and are happy with how your profile looks, click 'Save'.