Notifications, also known as 'Load Alerts', are a key feature of CX. They're real-time notifications about loads that are relevant to you, sent via the CX mobile app, the CX desktop platform, email or SMS.
IN THIS ARTICLE
Why load alerts are important
Without load alerts being sent to you, you'd have to manually search for them every time you wanted to quote.
Notifications are also necessary for CX's Future or Return Journey functionality to work, which contribute towards reducing dead mileage and making your vehicle more profitable on the Exchange.
How notifications work on CX
An important thing to remember: once a load has already been sold to a carrier, it will no longer be visible in the mobile app's load feed.
The load alerts you receive have been appropriately matched to the details you've put about your vehicle type, home location, and the radius in which you're willing to complete loads in.
There are three ways that CX makes sure you're receiving relevant alerts:
1. Alerts based on your home location
Your home location can be customised in your settings. Setting a home location means you'll receive load alerts for opportunities within the radius you've chosen.
This function can also be turned off, if you choose.
2. Alerts based on GPS tracking
If you have access to the CX mobile app or have integrated your vehicle's tracking with the Exchange, you will be sent load alerts based on your current location.
If you happen to notice that you aren't receiving certain notifications from CX via the mobile app, it's likely that either there is no work available in the immediate area, or you need to be within a certain radius defined by the load poster.
3. Alerts based on Journeys
You'll also receive notifications based on the journeys function.
You can manually set up a future journey via the desktop platform by clicking 'Return Journeys' from the top menu.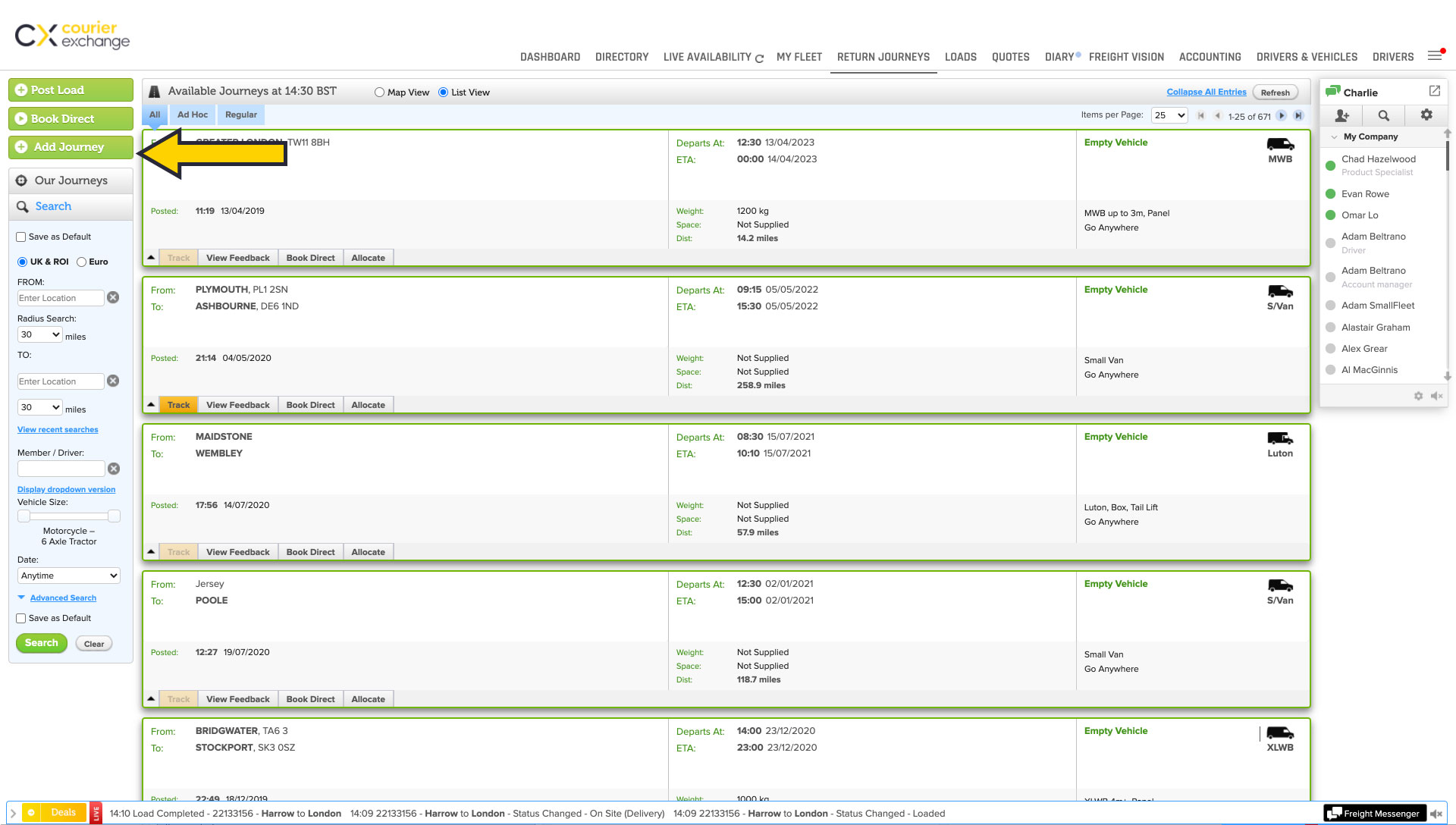 Alternatively, you can do it via the mobile app: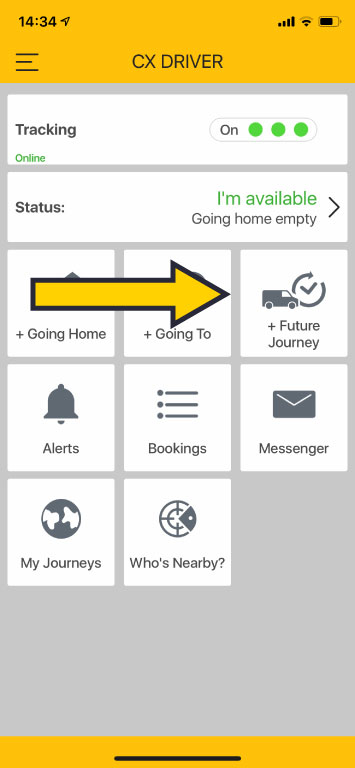 'Going Home' will

set a return journey

back home

. You'll start to receive

load alerts

based on your availability and predicted route home.

'Going To' or 'Future Journey' can set a

n upcoming

journey before reaching a delivery destination

.

This

is

useful

because you'll receive load alerts for that location before arrival.



How to customise your notification preferences
Adding or changing your Home Location:
If you need to add or change your home location, you'll need to log in to the CX platform as this can't be done via CX app.
Step 1) Click on the drop-down menu button.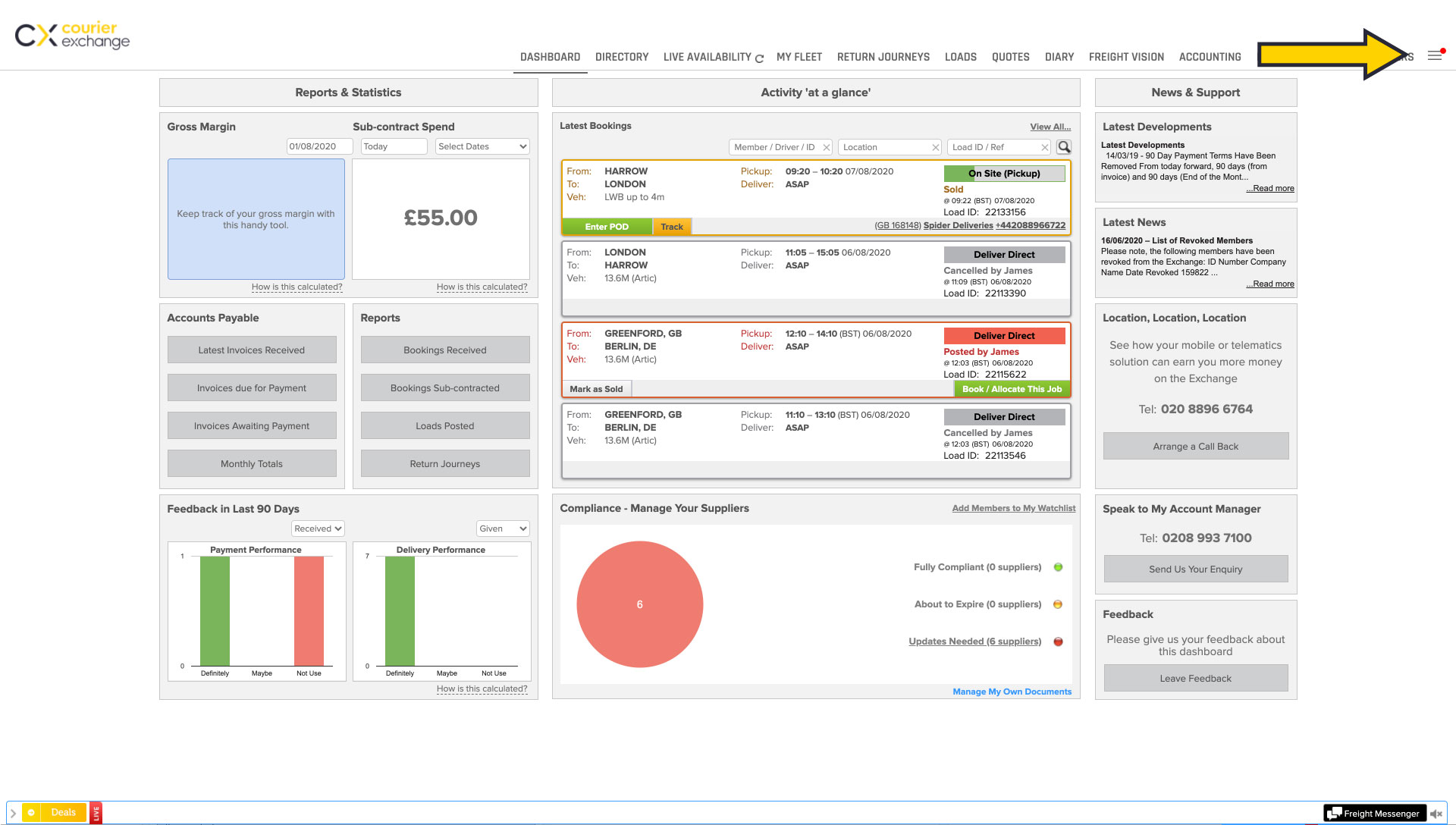 Step 2) If you're on a Starter plan, click 'Notifications'.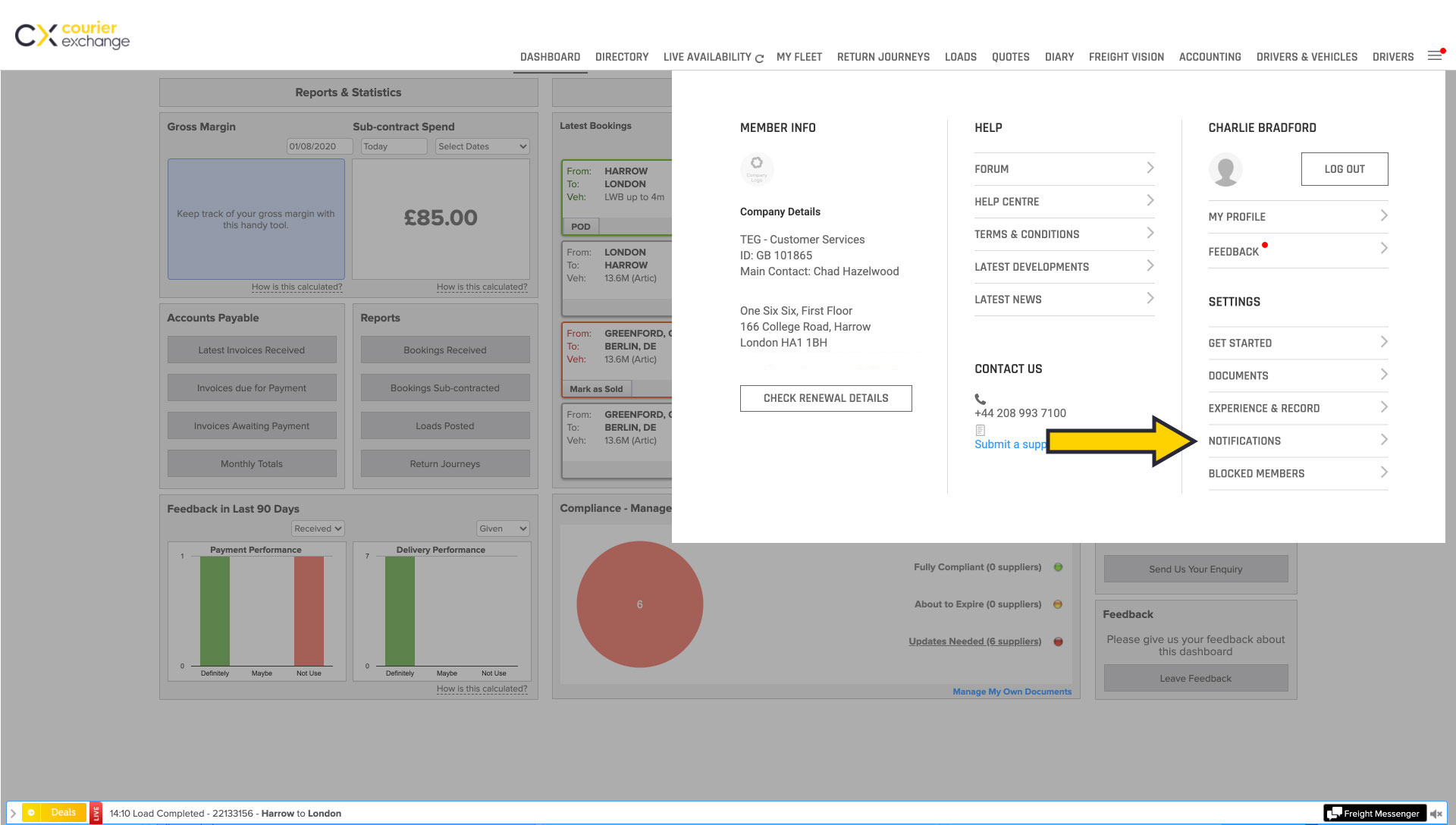 If you're on Essentials, Pro or Premium, click 'Other' and then select 'Notifications' from the menu on the left.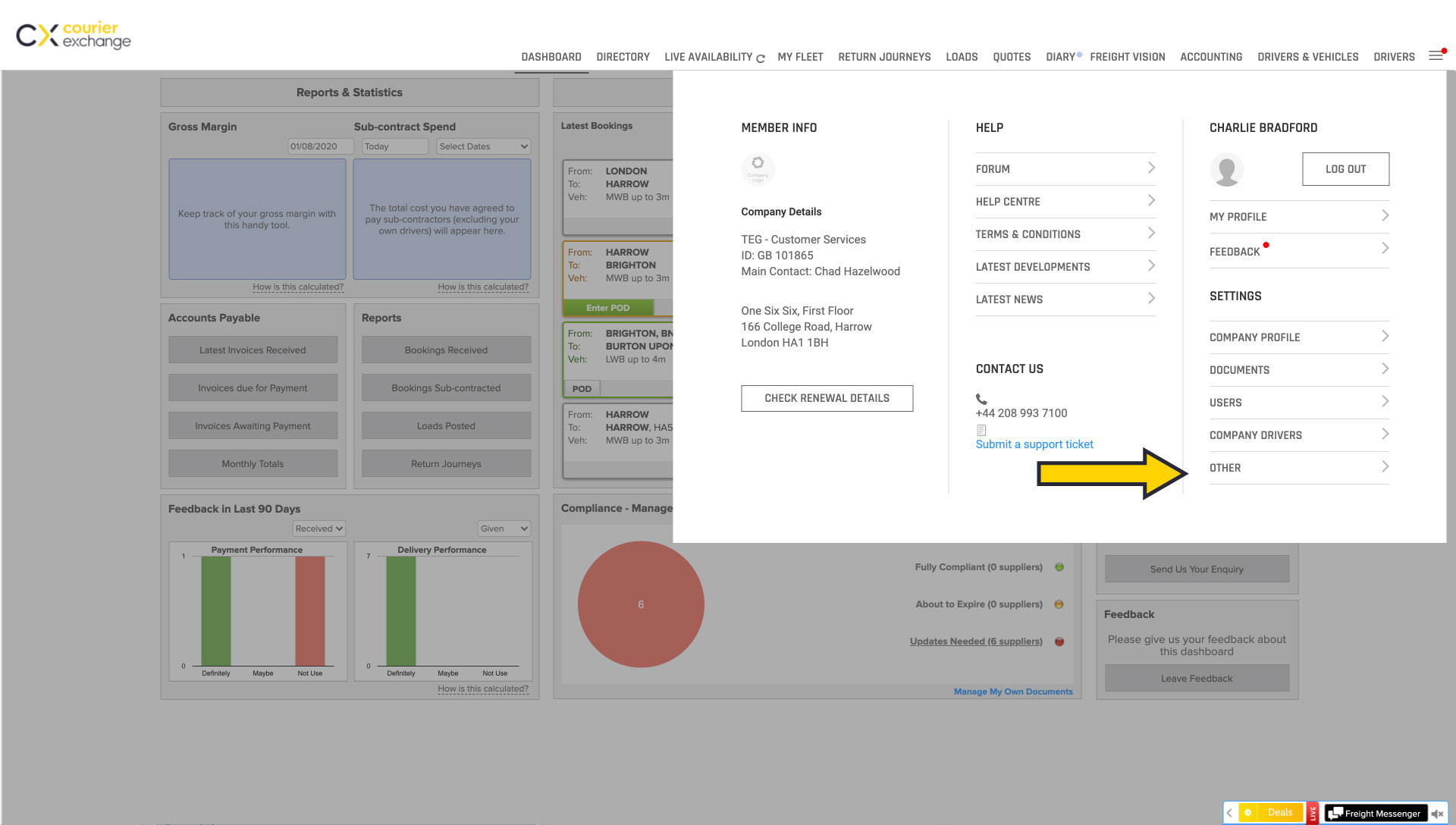 Step 3) Enter your home or office details and select the radius you would like to receive load alerts for around in this area.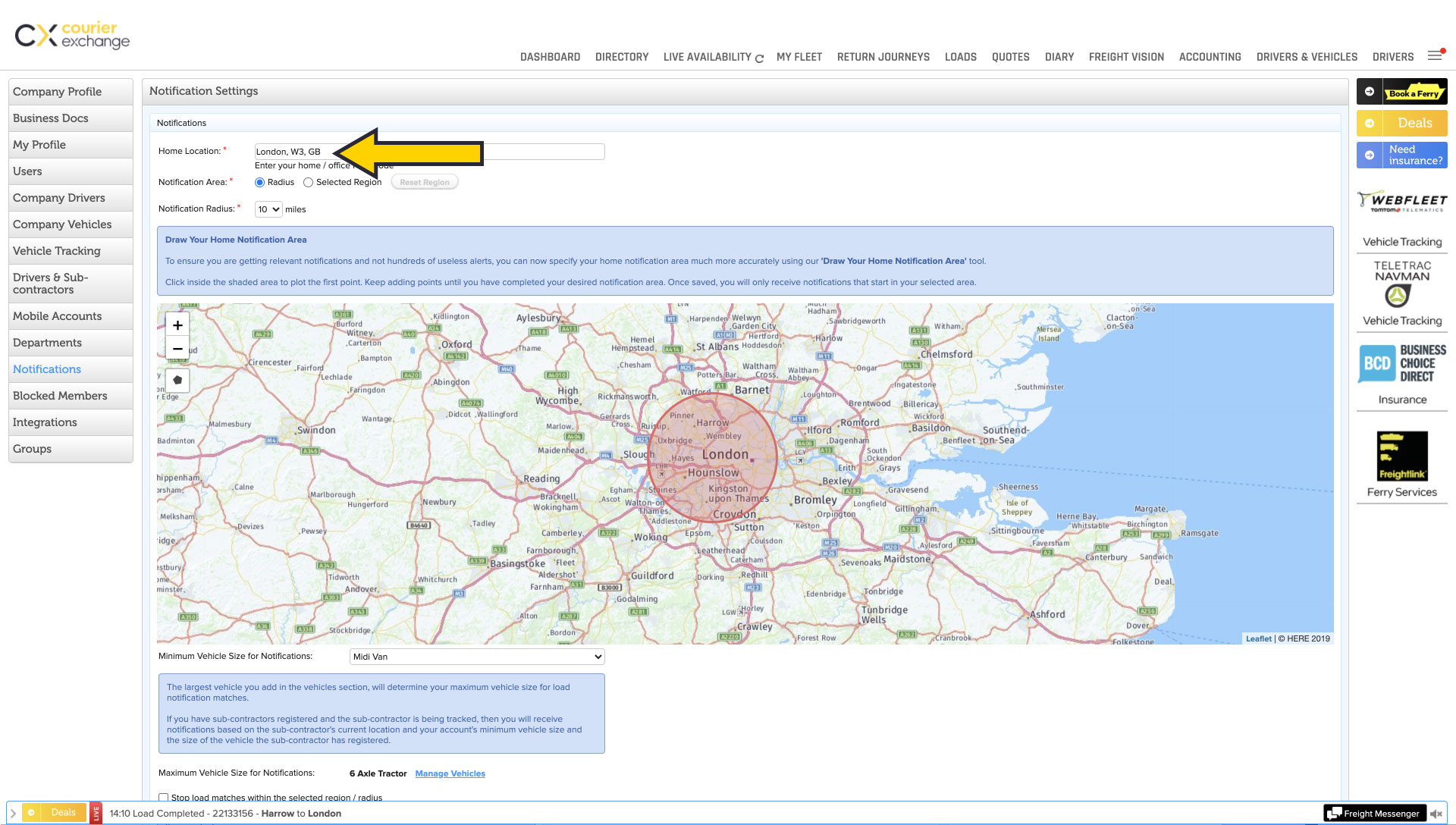 You can also use the 'Draw Your Home Notification' tool to create more specific boundaries within an area. For example, if you live in London, you could draw an area around where you wish for pickup locations to start.
Click the • symbol on the map to bring up the tool.
Click within the circle to start drawing your desired notification area.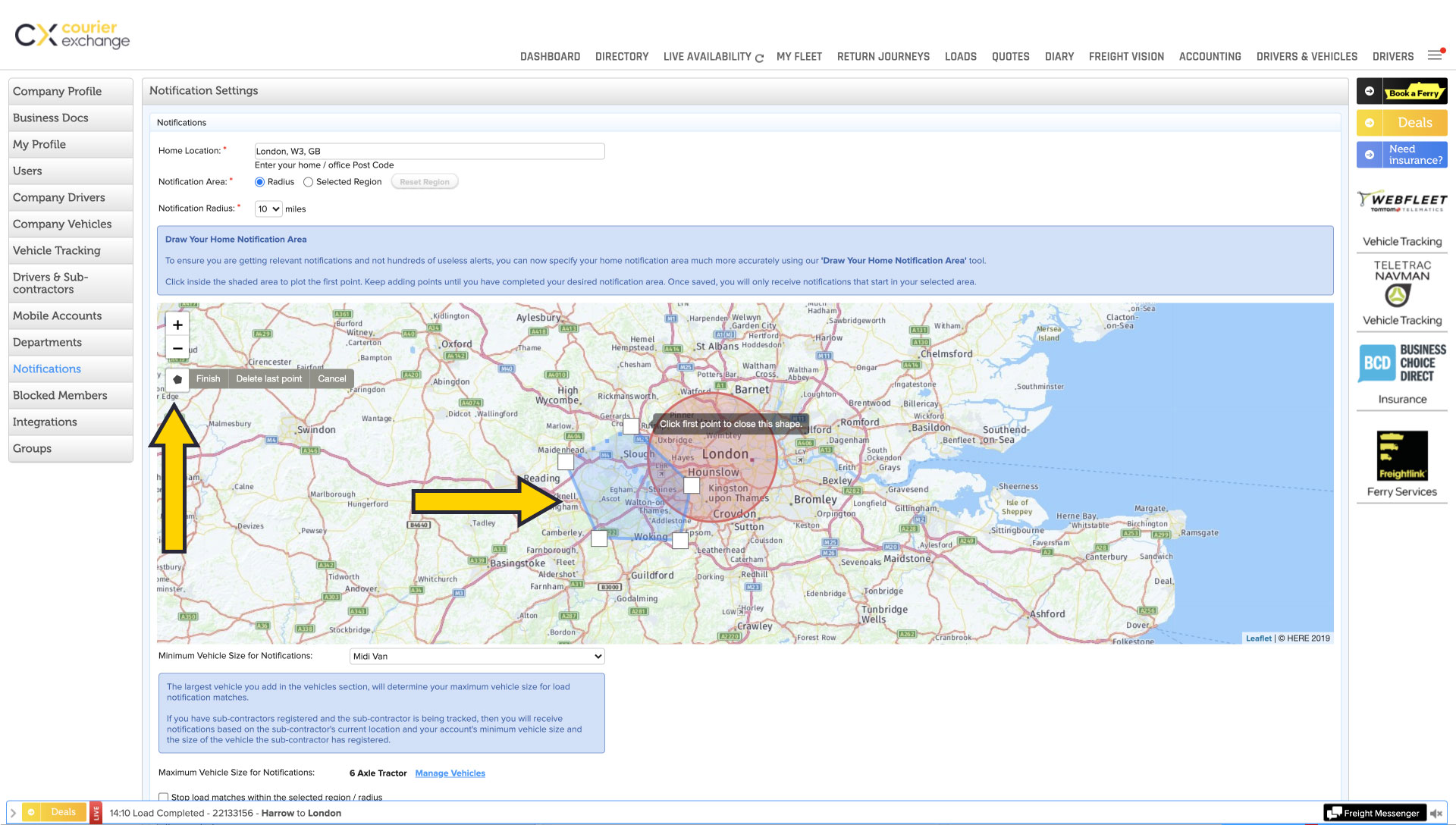 Alternatively, you could use the 'Draw Your Home Notification' tool to exclude an area within a radius from your home.
This can be done by clicking the box 'Stop load matches within the selected region / radius', which can be found below the Home Notifications map.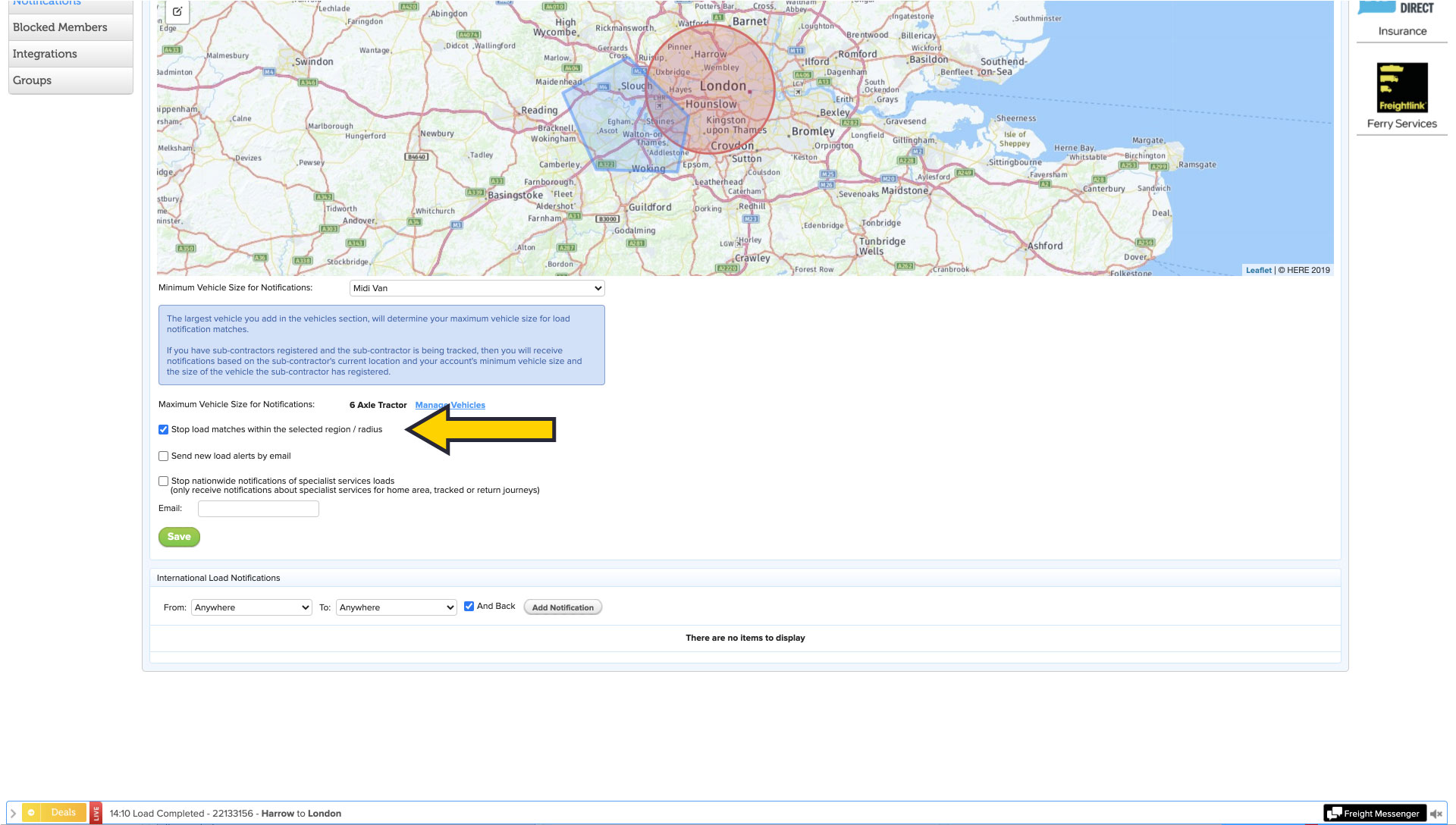 Set the minimum and maximum size of vehicles for load Alerts you would like to receive.
How to add a specific email to receive PODs and bookings' confirmation
Here's how to add a specific email to receive PODs and bookings' confirmation.
Step 1: Log in to your CX account.
Step 2: Click on the burger menu on the top right.
Then click on NOTIFICATIONS.

Step 3: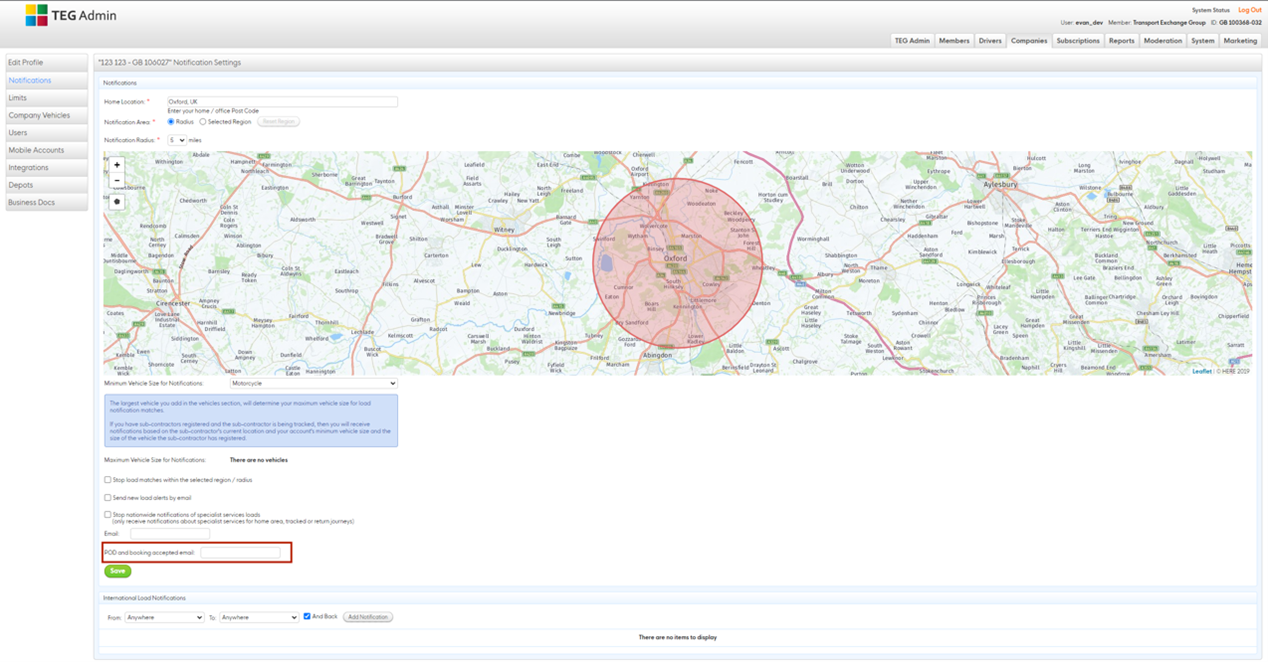 The first email box manages the following notifications:
New load
Quote submitted on posted load
Load booked to me
Booked load is edited
Load cancelled by subcontractor
The second email box manages the following notifications:
POD
Booking accepted by subcontractor
Simply type the email you'd like to add as the recipient notifications, then click SAVE.